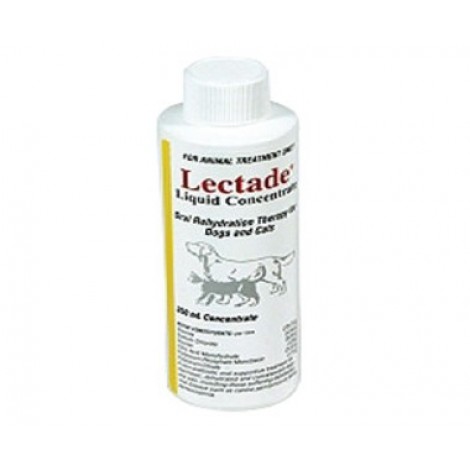 Active Constituents per Litre: Glucose 278.75 g, Sodium Chloride 53.44 g, Glycine 38.56 g, Citric Acid Monohydrate 3.28 g, Potassium Phosphate Monobasic 25.53 g, Potassium Citrate 0.75 g.
Most dogs find Lectade palatable and will drink it voluntarily.
Palatability for cats is variable.
Lectade may also be administered orally via dosage syringe.
Continue treatment for 1 to 2 days after the animal appears clinically recovered and is feeding normally.
Dosage Guide:
Dogs and Cats Mixed Dilution:
Up to 5kg (11lbs) 125ml (4.25floz) 2-3 times daily
Small Dogs 5-10kg ( 11-22lbs) 250ml (8.5floz) 2-3 times daily
Medium Dogs 11-20kg ( 24-44lbs) 500ml ( 17floz) 2-3 times daily
Large dogs over 20kg ( 44lbs) 750ml ( 25.5floz) 2-3 times daily
250ml ( 8.5 floz )
Specifications
Package Information
250mL
For
Dogs/Cats
Active Constituents
Glucose 278.75g, Sodium Chloride 53.44g, Glycine 38.56g, Citric Acid Monohydrate 3.28g, Potassium Phosphate Monobasic 25.53g, Potassium Citrate 0.75g
Application
Oral
Lectade Liquid Concentrate 250mL (8.5 fl oz)