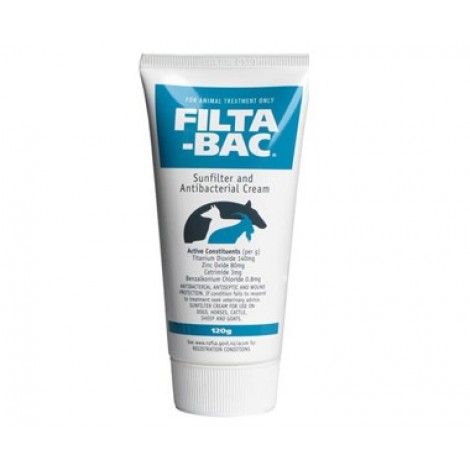 Active Constituents: Titanium Dioxide, Zinc Oxide, Cetrimide and Benzalkonium Chloride.
Filta Bac Sunfilter and anti-bacterial cream is a sunscreen suitable for dogs, horses, cattle, sheep and goats.
Provices effective protection against sun for sensitive or damaged skin.

Contains a built in antibacterial, antiseptic and wound protectant.

Filta Bac Sunscreen can be applied as a thin layer up to three times daily as required to provide your pet with sun protections.
Specifications
For
Dogs
Active Constituents
Titanium dioxide 140mg Zinc oxide 80mg Cetrimide 3mg Benzalkonium chloride 0.8mg
Application
Topical
Filta Bac Sunscreen 4.23oz (120gms)