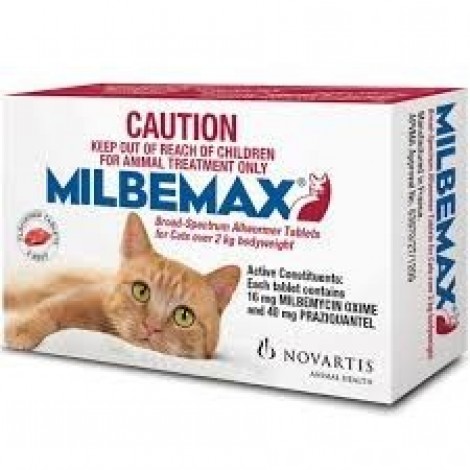 Active Constituents: 16mg milbemycin oxime 40mg praziquantel
Intestinal Worm Dose every 3 months.
Heartworm dose every month.
2-4kg (4.4 -8.8lbs) 1/2 tablet.
4-8kg (8.8-18lb) 1 tablet.
Milbemax is a monthly tablet for prevention of heartworm, roundworm, hookworm & tapeworm in cats.
It is the smallest of all other brands of cat wormers on the market and treats all sizes of cats up to 17lbs (8kg).

Properties:
Milbemycin oxime belongs to the group of macrocyclic lactones, isolated from the fermentation of Streptomyces hygroscopicus var. aureolacrimosus.
It is active against mites, against larval and adult stages of nematodes as well as against larvae of Dirofilaria immitis.
The activity of milbemycin is related to its action on invertebrate neurotransmission.
Milbemycin oxime, like avermectins and other milbemycins, increases nematode and insect membrane permeability to chloride ions via glutamate-gated chloride ion channels (related to vertebrate GABAA and glycine receptors).
This leads to hyperpolarisation of the neuromuscular membrane and flaccid paralysis and death of the parasite.
Praziquantel is an acylated pyrazino-isoquinoline derivative.
Praziquantel is active against cestodes and trematodes.
It modifies the permeability for calcium (influx of Ca2+) in the membranes of the parasite inducing an imbalance in the membrane structures, leading to membrane depolarisation and almost instantaneous contraction of the musculature (tetany), rapid vacuolization of the syncytial tegument and subsequent tegumental disintegration (blebbing), resulting in easier expulsion from the gastrointestinal tract or death of the parasite.
MILBEMAX is given orally to cats at the minimal dose rate of 2 mg of milbemycin oxime and 5 mg of praziquantel per kg body weight.
Milbemax tablets for cats (2-8kg):
16mg milbemycin oxime (dose range 2-4mg/kg)
40mg praziquantel (dose range 5-10mg/kg)
Can be given to cats over 2kg and 6 weeks of age.
Specifications
For
Cats 2-8kg (2-17lbs)
Active Constituents
16mg milbemycin oxime 40mg praziquantel
Application
Oral