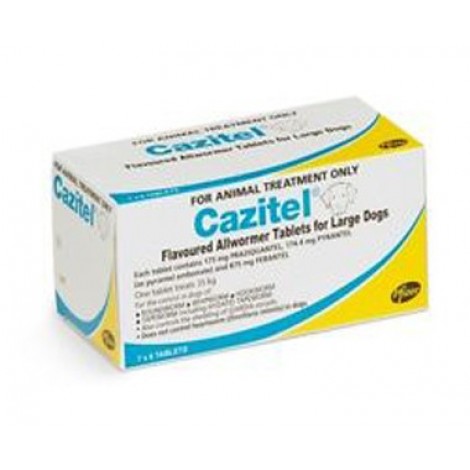 Active Constituents: 175 mg PRAZIQUANTEL, 174.4 mg PYRANTEL (as pyrantel embonate) and 875 mg FEBANTEL
Expiry: May 2024
Cazitel Allwomer 35kg (77lb) Tablets. Multi spectrum intestinal wormers for puppies and adult dogs.
For the control of: ROUNDWORMS, WHIPWORMS, HOOKWORMS, TAPEWORMS - (hydatid tapeworm).
Also controls the shedding of Giardia. Does not control heartworm in dogs.
Dosage and Administration: 1 tablet treats 35kg (77lb)
CAZITEL is given as a single dose by mouth.
Fasting prior to dosing is NOT necessary.
Specifications
For
Dogs 35kg (77lbs)
Active Constituents
175 mg PRAZIQUANTEL, 174.4 mg PYRANTEL (as pyrantel embonate) and 875 mg FEBANTEL
Application
Oral
Cazitel Allwormer 35kg (77lb)