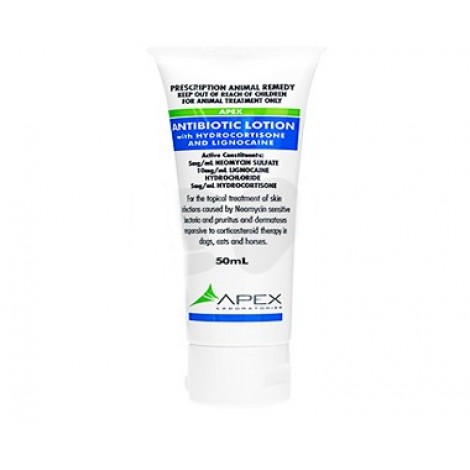 Active Constituent: Each mL contains Neomycin Sulphate 5mg, Lignocaine 10mg and Hydrocortisone.
A topical lotion with good penetrative action for use in infected skin conditions.
It has a combined antibacterial and anti inflammatory action.
Indications: Relief of pruritus and inflammation associated with superficial acute and chronic dermatoses including hot spots in dogs, cats and horses.
Moist eczema, lacerations and topical infections sensitive to Neomycin, with Denatonium Benzoate and Lignocaine to discourage licking.
Precautions: WITHHOLDING PERIOD: MEAT - 28 DAYS. For topical application only.
Over use will retard healing. Wear protective gloves during application or wash hands with soap and water after application.
Dosage: Apply a thin layer of lotion on affected area and rub gently into skin until absorbed into tissue.
Apply 2 or 3 times daily or as directed by Veterinary Surgeon.
Specifications
For
Dogs
Active Constituents
Neomycin Sulphate 5mg, Lignocaine 10mg and Hydrocortisone
Application
Cream