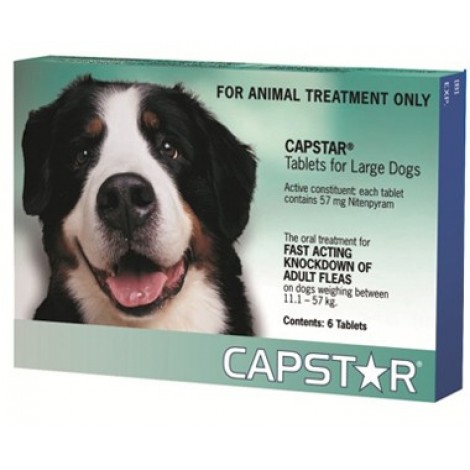 Active Constituents: 57.0mg of Nitenpyram
Treats dogs from 12-57kg (25-125llbs)
Expiry: February 2025
Capstar starts working in just 30 minutes.
A single dose of Capstar should kill the adult fleas on your pet.
If your pet gets reinfested with fleas, you can safely give another dose as often as once per day.
Capstar is safe for puppies and kittens 4 weeks and older, weighing 2lbs (1kgs) or greater, as well as for pregnant or nursing dogs and cats.
Dosage:
Place the pill directly in your pet's mouth, or hide it in food.
If you choose to hide the tablet in food, watch closely to make sure your pet swallows the pill.
If you are not sure that your pet swallowed the pill, it is safe to administer a second pill.
NOTE: Capstar is not for sale to USA residents due to manufacturer restrictions, please consider Vetastar as an alternative.
Specifications
For
Dogs 12-57kg (25-125lbs)
Active Constituents
57.0 mg of Nitenpyram
Application
Oral
Capstar for Large Dogs 6 Tablets