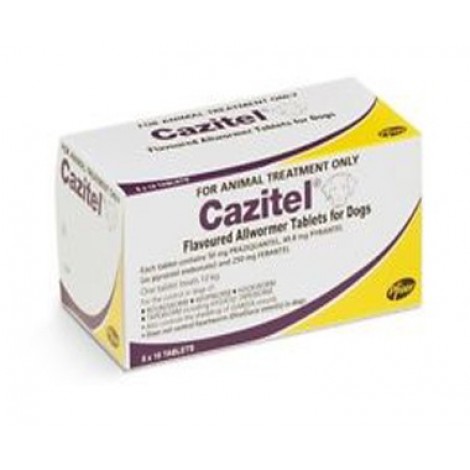 Active Constituents: 50mg Praziquantel, 49.8mg Pyrantel (as pyrantel embonate) and 250mg Febantel
Multi spectrum intestinal wormers for puppies and adult dogs up to 22lbs (10kgs)
Expiry: June 2025
Treats: Roundworms, Whipworms, Hookworms, Tapeworms, (Hydatid tapeworm).
Controls the shedding of oocysts of the protozoan Giardia sp.
Does not control heartworm in dogs.
Cazitel is given as a single dose by mouth.
Fasting prior to dosing is NOT necessary.
It is essential to weigh dogs prior to treatment.
If worm problems persist, consult a veterinarian.
Dosage: 1 tablet treats up to 22lbs (10kgs), once every three months as a preventative.
Specifications
For
Dogs 10kg (22lbs)
Active Constituents
50 mg PRAZIQUANTEL, 49.8 mg PYRANTEL (as pyrantel embonate) and 250 mg FEBANTEL
Application
Oral
Cazitel Allwormer 22lbs (10kgs)