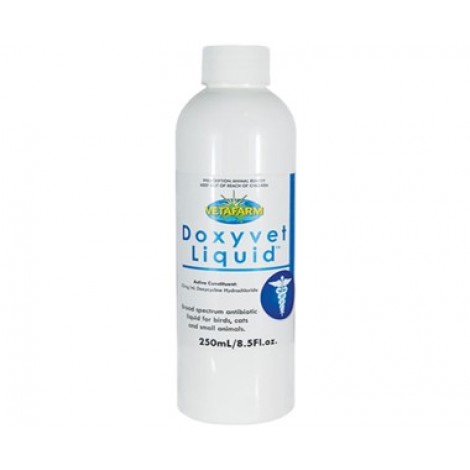 Active Constituents: 50mg/mL Doxycycline Hydrochloride.

For treatment of susceptible infections in birds, guinea pigs, hampsters, rabbits, cats and other small animals.
Directions:
Cats:
First day: 2 drops per Kg (2.2lb) bodyweight 5mg/Kg (2.2lb) orally, then 1 drop per Kg (2.2lb) bodyweight (2.5mg/Kg) orally for 7-10 days.
After Doxyvet treatment give Probotic for 7 days to replace and stimulate normal gut flora.
This will speed recovery by stimulation of the immune system.
Birds:
1ml or 20 drops (.034 floz) per 100ml (3.4 floz) of drinking water. Treat daily for 7 days. Change water daily and keep out of direct sunlight.
1 capful = 5 ml (0.17 floz)
Storage & Availability:
Store below 30°C (room temperature)away from direct light.


Specifications
For
Dogs/Cats
Active Constituents
Doxycycline Hydrochloride 50mg/mL
Application
Oral
Doxyvet Liquid
Not For Sale In Australia- Export Only