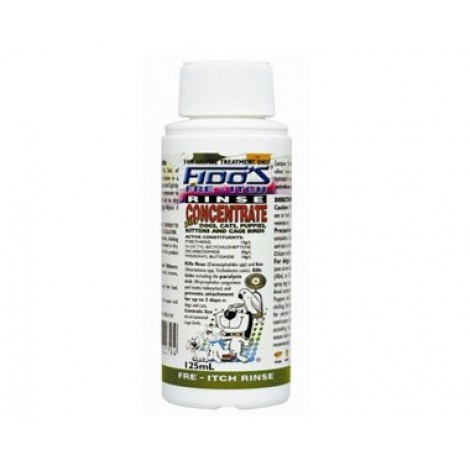 Active Constituents: 10g/l Pyrethrins, 18g/l Piperonyl Butoxide, 30g/l N-Octyl Bicycloheptene Dicarboximide.
Kills fleas, lice and ticks including paralysis tick and prevents attachment for up to 3 days on dogs and cats.
Dosage: Mix .27floz (8mls) of concentrate with 27.2floz (800mls) of warm water.
Dip, swab, sponge or spray pet with this solution until thoroughly soaked.
Avoid contact with pets eyes.
Allow animal to dry naturally.
Puppy and kittens should be towelled dry to prevent chilling.
For best results do not rinse off.
Repeat as neccessary for control of infestation.
The suggested treatment for continuous paralysis tick control is to rinse the animal according to label directions every 3 days.
In tick season daily searching for and removal of any ticks found is recommended.
Comes with measure cup.
WARNINGS: In paralysis tick areas daily examination of dogs and cats is desirable.
CAUTION:
Use carefully on puppies and kittens.
May cause dribbling and unsteady gait in cats.
If one or both occur, wipe off exess product and contact a veterinarian.
Specifications
For
Dogs/Cats
Active Constituents
10g/L Pyrethrins, 18g/L Piperonyl Butoxide, 30g/L N-Octyl Bicycloheptene Dicarboximide
Application
Topical
Fido's Fre-Itch Rinse Concentrate 4.25floz (125mls)