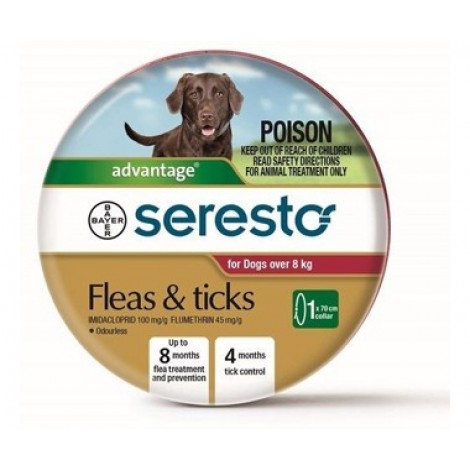 Active ingredients: Imidacloprid 100mg/g Flumethrin 45mg/g

Seresto is a breakthrough in flea and tick protection, providing up to 8 months of continuous protection from fleas for dogs and cats and 4 months continuous protection from ticks for dogs.
Protect your dogs and cats with a new, innovative, gold-standard collar.
Seresto works to treat and prevent flea infestations by killing adult fleas on your pet and flea larvae in their surroundings for up to 8 months.
Seresto also kills adult ticks, including the deadly Australian paralysis tick as well as brown dog and bush ticks for 4 months.
Seresto also kills juvenile stages (larvae and nymphs) of brown dog ticks.
Dosage and Administration:
One collar treats a dog over 8 kg (17.6lb)
For puppies from 7 weeks of age
For external use only
One collar per animal to be fastened around the neck.
Remove collar from protective pouch immediately before use.
Unroll collar and detach plastic connectors remaining on the inside edge of the collar (these can cause mechanical irritation if not removed).
Adjust the collar around the animal's neck without over-tightening (as a guide, it should be possible to insert 2 fingers between the collar and the neck).
Pull collar through the loop and cut off any excess length extending beyond 2 cm.
Important: Once collar is unrolled make sure that there are no plastic connectors remaining on the inside edge of the collar"
The collar should be worn continuously for the full protection period.
Check periodically and adjust fit if necessary, especially when puppies are rapidly growing.

General Directions:
The polymer matrix system ensures that both active ingredients are slowly and continuously released in low concentrations from the collar towards the animal. This ensures that acaricidal/insecticidal concentrations of both actives are present in the dog's haircoat during the entire efficacy period. The active substances spread from the site of direct contact over the entire skin surface. The modes of action do not require systemic absorption of active ingredients into the dog, so efficacy is achieved without requiring fleas or ticks to bite and ingest a blood meal.

This collar is designed with a safety-closure mechanism. In the unlikely event of a dog being trapped, the dog's own strength is sufficient to widen the collar to allow for quick release.

Ticks already on the dogs prior to treatment may not be killed immediately after collar application and may remain attached and visible. Therefore removal of ticks already on the dog at the time of application is recommended. Effective control of new brown dog tick infestations is achieved by 48 hours following collar application.
Shampooing or frequent exposure to water (e.g. swimming, bathing, rain) may reduce the efficacy against fleas.
Shampooing or frequent exposure to water has been shown not to reduce efficacy against brown dog tick).
shampooing, use a soap-free shampoo. The effect of shampooing or exposure to water on efficacy against paralysis tick , bush tick or lice has not been established.

Paralysis tick: The Paralysis tick (Ixodes holocyclus) is a potentially deadly parasite and difficult to control. While SERESTO TICK AND FLEA COLLAR controls paralysis ticks for 4 months, the risk of tick paralysis cannot be entirely eliminated as it takes only one adult female tick to cause tick paralysis/poisoning. Therefore, daily searching for and removal of any ticks found is recommended.

PUPPIES
Puppies may be treated with SERESTO TICK AND FLEA COLLAR FOR DOGS AND PUPPIES UP TO 8 KG from 7 weeks of age.
Seresto is a trademark of Elanco.
Seresto Flea And Tick Collar For Dogs Over 8kg (17.6lb)