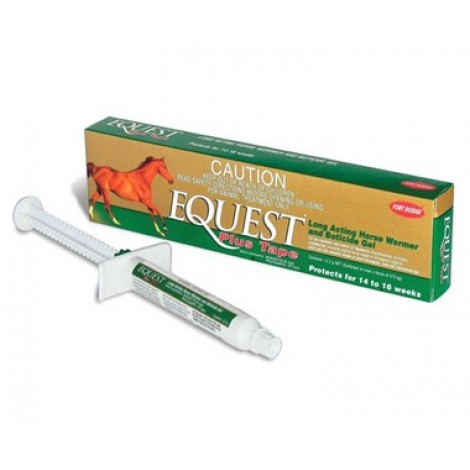 Active Constituents: 20mg/g Moxidectin, Praziquantel 125mg/g
1 tube sufficient to treat a horse of 575kg (1265 lbs)
Equest Plus Tape Gel 12.2gm (0.427 ounce)
Expiry: May 2021
Re-treatment intervals 14-16 weeks.
With the addition of praziquantel to Equest, the new Equest Plus Tape now also controls tapeworm in addition to all the other major gastrointestinal worms and bots in horses. Tapeworm in the horse is an important cause of colic and its control is critical to any worming program.
Equest Plus Tape is the only horse wormer that is long acting: re-treatment is recommended after 14-16 weeks compared to after 6-8 weeks with other wormers. This means fewer treatments per year and twice the time that pastures are left free of worm eggs.
Equest Plus Tape is also the only horse wormer to have a registered claim to control encysted small strongyles in a single dose. Small strongyle worms hibernate or in the lining of the horses gut and can cause colic. While other horse wormers kill the small strongyle worms that are in the gut itself, Equest Plus Tape is the only wormer with a registered claim to also kill the encysted forms. This means that the life cycle is blocked at a much earlier stage and that no small strongyle worms can re-emerge and mature in the horses gut straight after worming.
Lastly, Equest Plus Tape is a unique gel formulation that dissolves rapidly on the tongue, very important for fussy and difficult horses. The dial up syringe is designed with a narrow barrel to allow easy access into the side of the horses mouth and deliver the right dose every time.
Equest Plus Tape is safe for pregnant mares and breeding stallions as well as foal over 4 weeks of age.
Withholding Periods: Meat - horses: 28 days.
Specifications
For
Horses 575kg
Active Constituents
20mg/g Moxidectin 125mg/g Praziquantel
Application
Oral
Safety Information
Withholding Periods: Meat - horses: 28 days
Equest Plus Tape Horse Wormer