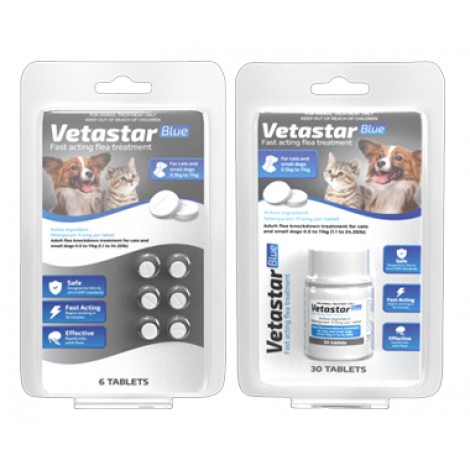 Active Ingredients: 11.4mg Nitenpyram per Tablet. Same ingredient as brand name Capstar
Treats between 0.5 - 11kg (1.1 - 24.2lbs)
Expiry: 6 Pack November 2024, 30 Pack November 2025
Fast acting – starts working within 30 minutes of administration, with up to 90% of fleas killed within 4 hours on dogs and in 6 hours on cats.
Simple – One dose will continue to kill fleas for 24 hours.
Flexible – Can be given once daily if required though usually administered once weekly or used with other flea control products.
Safe – Designed by Veterinarians to strict GMP standards
Reliable – Unaffected by wash off factor
Directions – For dogs & cats 0.5 – 11kg (1.1 – 24.2lb) 1 Tablet. Can be administered to puppies and kittens from 4 weeks of age. Treat on any day when fleas are evident. Give one tablet either directly in the mouth or hidden in a small amount of food. Repeat on any subsequent day that fleas are present. Adult fleas are killed once they ingest the blood containing the active ingredient Nitenpyram. Vetastar tabs do not kill fleas in the environment outside the pets body. To ensure the best results it is important that your dogs environment is also treated as your dog can continually be reinfected from an untreated environment. Treat the carpets & dog bedding on the day of dosing and vacuum carpets regularly. Treat all pets in the household.
Total Flea Control – Vetastar tablets offer a fast acting solution for the control of adult fleas on dogs and cats. For the best results for complete flea control, an integrated program should be employed to break the lifecycle of fleas in the environment. A product containing Lufenuron, such as Sentinel can be used to control immature stages of the flea lifecycle.
Vetastar Tablets for Small Dogs & Cats
Not for Sale to Australia