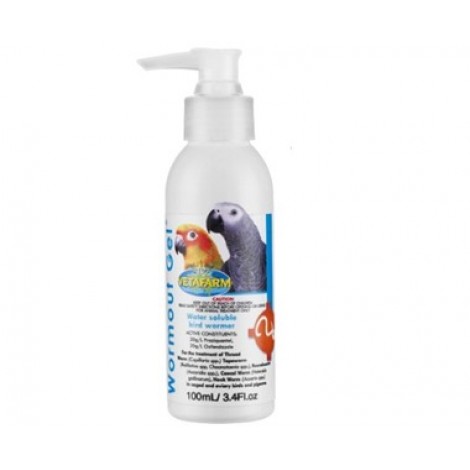 Active Constituents: 20g/L Praziquantel, 20g/L Oxfendazole
A soluble bird wormer, Wormout Gel for birds contains Oxfendazole and Praziquantel two of the safest wormers available and their combination covers all the major worm species found in birds including thread worm, tapeworm, roundworm, caecal worm, and hookworm.
Directions:
All Aviary Birds - add 1ml (0.034 floz) to 80ml (2.72 floz) of water. Supply medicated water for 2 days. Remove other sources of water during treatment. Aviaries should be treated at least four times a year.

Treatment by Crop Needle -
Fill a 1ml (.034 floz) syringe with Wormout Gel. Administer 0.05ml (.002 floz) per 100g (3.5 ounce) body weight, once. Repeat three monthly.
Packaged in a convenient pump action bottle

Storage:
Store below 30°C (room temperature)
Specifications
For
Birds/Poultry
Active Constituents
20g/L Praziquantel, 20g/L Oxfendazole
Application
Oral