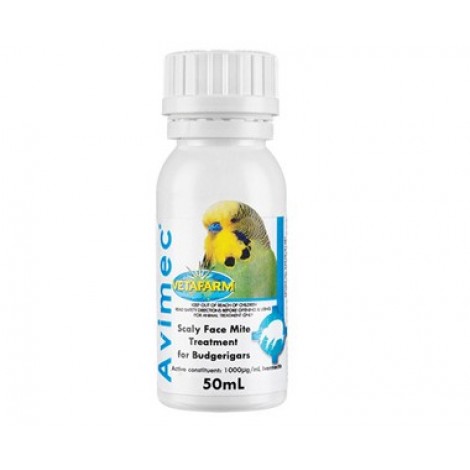 Active Constituents: 1000µg/mL Ivermectin.
Avimec is a topical 'drop on' liquid for the treatment of Scaly Face Mite (Knemidokoptes pilae) in budgerigars
Recommended for Budgerigars.
Avimec is for external use only and is safe to use in conjunction with food additives and supplements and with other oral medications.
Ivermectin can be used for the treatment of Air Sac mite.
When formulated correctly the drug is absorbed through the skin and acts over about a week.
The bird should be treated once weekly for 3 weeks.
Treat all birds in the aviary.
Full recovery may take up to 6 weeks
Dosage: Birds less than 1.058oz (30g) body weight apply 1 drop, birds between 1.058-3.52oz (30-100g) body weights apply 2 drops. Repeat application weekly for three doses. Place drops on an unfeathered area of skin.
The use of Ivermectin in water is dicouraged. Ivermectin as a chemical does not like water and starts to break down quickly as soon as it is added to water.
APVMA approval number: 65649/51491
Specifications
For
Birds
Active Constituents
1000µg/mL Ivermectin
Application
Topical