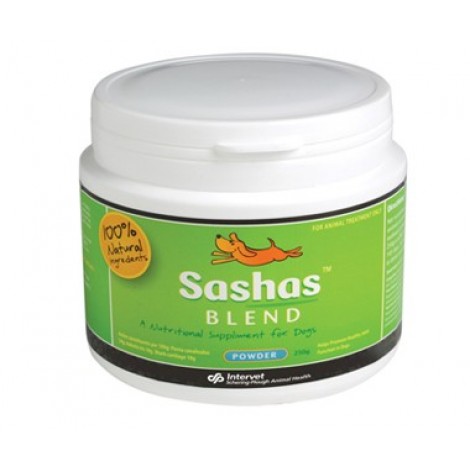 Sasha's Blend for Cats and Dogs 250gm (8.75 oz )
Sasha's Blend is a new generation nutritional supplement for cats and dogs.
It may help to maintain joint function, promote mobility and enhance health and well being .
Sasha's Blend contains three recognised activities associated with maintaining joint function long chain polyunsaturated fatty acids, Glycogen fraction, Anti-inflammatory peptide.
The lipid glycogen and peptide associated activities in Sasha's Blend promote joint mobility and can be taken long-term without any adverse side effects.
Sasha's Blend is also a rich source of (GAGS) glucosamine, chondroitin sulphate and heparin sulphate.
Together these active ingredients yield sugars and amino acids that are thought to provide the building blocks required for enhanced glycosaminoglycan production in the body.
The natural synergistic effect of the combination of natural actives in Sasha's Blend and the method of processing is what achieves outstanding results.
To be mixed well with food or drink
1 level teaspoon = 5ml (approx 2.27 grams)

Note: give half the recommended dose for the first week of use
Powder Dosage Chart
| | | | | | |
| --- | --- | --- | --- | --- | --- |
| Animal Weight: | up to 10kg | 11-20kg | 21-30kg | 31-40kg | 41kg and up |
| Daily Dosage: | 1/2 level teaspoon | 3/4 level teaspoon | 1 level teaspoon | 1 ¼ level teaspoons | 1 ½ level teaspoons |
* Contents are not to be heated
Specifications
For
Dogs
Active Constituents
Glucosamine, Chondroitin sulphate and Heparin sulphate
Application
Oral
Sasha's Blend Powder 250gms (8.75 oz)