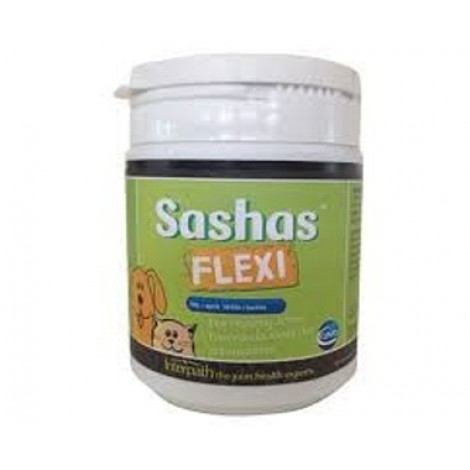 Active Constituents: Green lipped Mussel 139g/kg, Shark cartilage 46.3g/kg and Abalone powder 46.3g/kg
Sashas Flexi - Medicated Bites for Joint Health 200gm ( approx. 160chews )
Sashas Flexi are convenient, palatable medicated bites to help relieve arthritic symptoms.
Sashas Flexi medicated bites contain marine concentrates, providing a wide range of nutrients including Glycosaminoglycans ( GAGs ) and Omega-3 fatty acids essential for general health and joint support
Suitable for use in active and aging dogs.
Suggested feeding guide: Give as a treat or reward or add to food. Controlling your pets weight is important therefore it
is recommended to follow and suggested feeding guide.
Animals weight determines the number of Bites per day.
Dogs:
Weight less than 10kg ( 22lb ) 1-4 chews
11-20kg ( 22-44lb ) 6 chews
21-30kg (46-66 lb ) 8 chews
Over 31kg - 41kg (68-88 lb ) 10 chews
41-50kg + ( 90- 110 lb + ) 12 chews.
Start on half the dose for the first 5 days, For general joint health maintenance give half the dose.
Available in a 200g container (approx 160 Bites). Refrigerate after opening.
Specifications
For
Dogs
Active Constituents
Green lipped Mussel 139g/kg, Shark cartilage 46.3g/kg and Abalone powder 46.3g/kg 
Application
Oral
Sasha's Flexi 200gms (7 oz)